Dr. Burcham Family Dentistry Case Study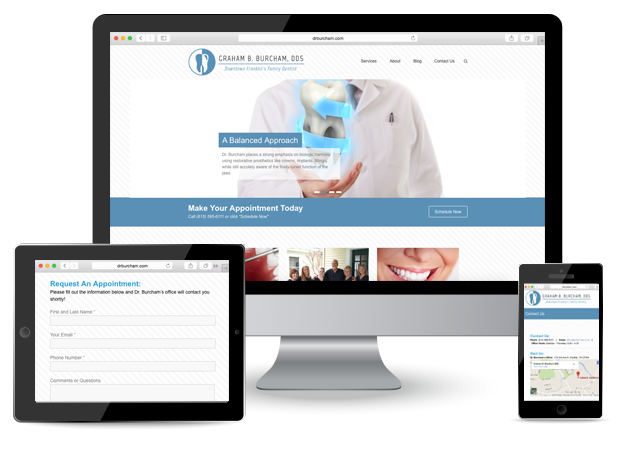 ---
BEFORE MAYBERRY
When Dr. Graham Burcham approached Mayberry, he had no web presence - no website, no social platforms, no email, and no way to be found via search engine.
He wanted to develop his online presence and update his image, but more importantly, he wanted to add patients at his practice.
WORKING WITH MAYBERRY
Mayberry Marketing started by designing a custom website for Dr. Burcham. The site looks beautiful, professional and funnels patients from the web to his office. It details his services and his experience, and showcases his work.
Mayberry designed and produced three videos for Dr. Burcham:
A general introduction to his practice
Highlights of his cosmetic dentistry work
An explanation of his natural dentistry philosophy
Mayberry also initiated a Facebook page for Dr. Burcham's office to feature these videos and share helpful information with his patients and the community.
Patient reviews and search engine marketing served two key elements for driving local prospects to the website.
RESULTS
Because of Mayberry's efforts, Graham Burcham, DDS has 28 Five Star Google reviews (and counting). His visibility has soared and his public perception is rock solid.
Dr. Burcham's latest challenge is fitting in all the new patients.
The office administrator recently told us, "We're booked for months in advance now. Ever since Mayberry did all that marketing stuff, we've just been so busy! And busy is good!"