Never mind white hat vs. black hat, Is SEO old hat?
Search engines have become an integral part of consumers lives, but marketers have shifted much of their attention to social media in recent years. While social media can be great for branding and consumer engagement, driving web traffic from Facebook, Twitter, and Instagram can be difficult without paying for ads.
Upwards of 1.2 trillion searches are initiated per year on Google alone. A good portion of those searches go to Google ads listings, but a huge number of those clicks go to organic listings.
71% of B2B researchers start their research with a generic search (via Hubspot).
These searches present a huge market for businesses, both small and large.
Three Birds, One Stone
Google search listings are determined by a complex algorithm that's designed to put user interests first, not business interests. That means Google wants to give the user the best website available for their particular query.
That's good news for marketers. Improving your website for user experience – and conversion – means improving your Google rankings.
By creating valuable web content, designed to help your audience in their buying process, you'll enhance your visibility via search engine.
Shopping Local
Nearly 1/3 of all mobile searches are related to location, according to Think With Google. That means your Google map listing is crucial to capturing searchers looking for your product or service.
72% of consumers who did a local search visited a store within five miles, and 78% of local-mobile searches result in offline purchases.
High visibility and high ratings can combine to be a powerful force in influencing potential customers. Here's what that looks like for our local friends at Graham Burcham, DDS: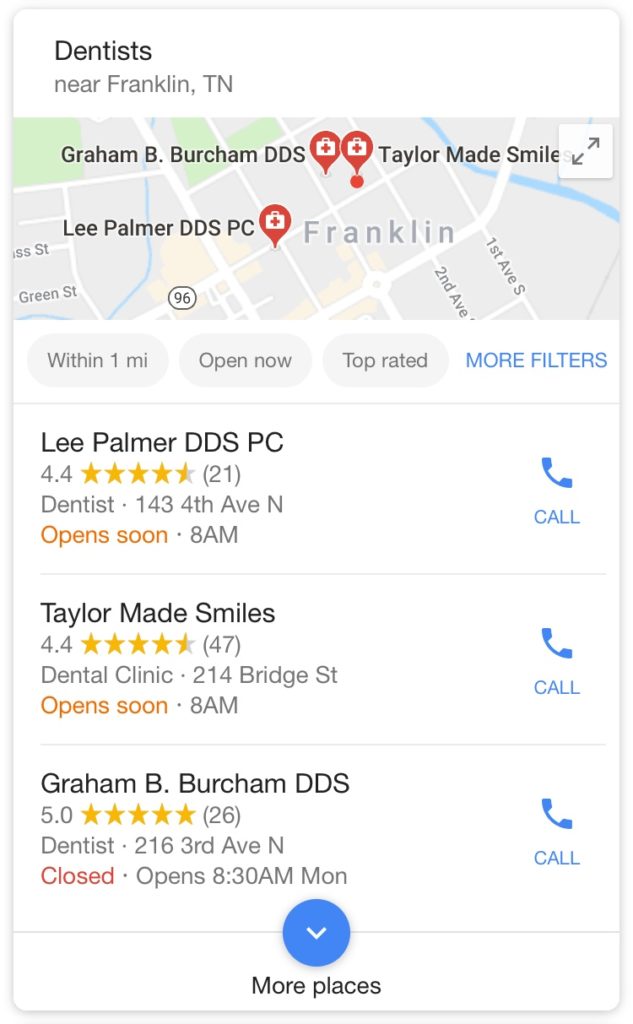 Mobile First
One major key to providing valuable content is delivering it the way your users want to see it. Google knows the majority of their searches come from mobile devices and those users want mobile friendly websites.
Google's latest "mobile first index" now looks at the mobile version of a website as the primary version of the site, not the desktop. That's why you want to display 100% of the content from your desktop version to mobile folks too.
To properly display your site on a mobile device, Google recommends a responsive design. So do we.
Double Down on Video
Google is the largest search engine in the world. Guess who's second? YouTube. Guess who owns YouTube? Google.
Putting your content in video form will make your content more engaging for users and more prominent via search. Embedding videos into your blog and landing pages gives users the option of reading or watching. This adds up to more website traffic and a better consumer experience.
Videos loaded into YouTube appear often appear prominently in search engine listings. The more time viewers watch your YouTube videos, the more often they will appear in search results.
NashvilleGuitarStore.com answered their most frequently asked question with a video. Now it appears at the top of the Google results page.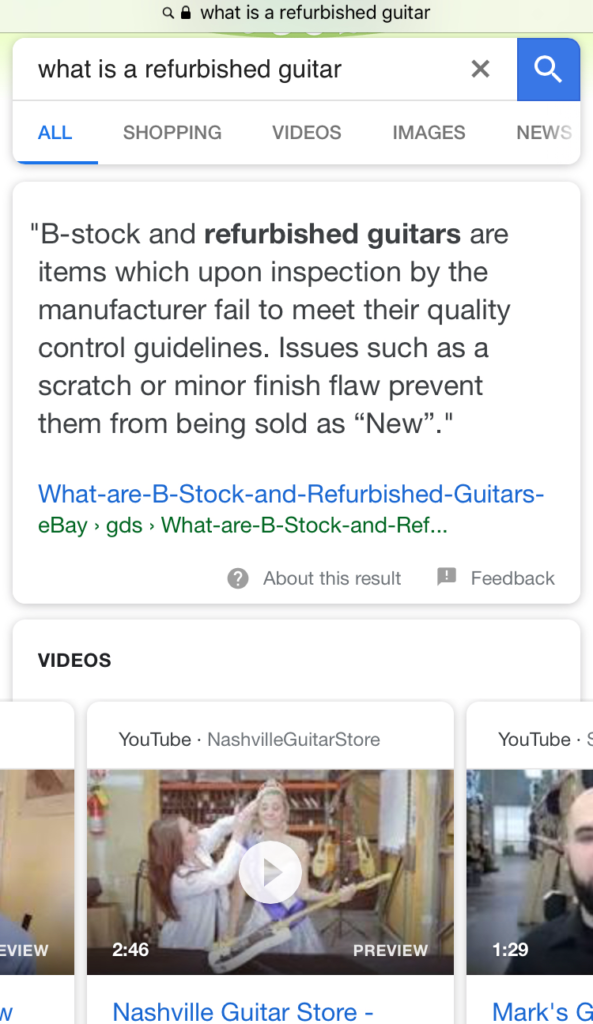 Clearly, SEO offers your business some value. It doesn't involve technical wizardry or a massive investment. Improving user experience on your website and creating compelling content can help you get you where you want to go.
With a thoughtful strategy and consistent execution, Google will be funneling qualified leads to your site in no time.